How to reach Cortona
by Plane

AIRPORTS

Firenze (mainly domestic flights), 120 Km
Roma, Fiumicino "Leonardo da Vinci"(*) and Ciampino Airports, 200 Km
Pisa "Galileo Galilei" Airport, 180 Km
Milano, Malpensa or Linate Airports, 420 Km

(*) The Rome-Fiumicino Airport is connected to Roma-Termini (main railways station), by "Leonardo Express" no-stop train (31 minutes, 8,80 Euro) and to Roma-Tiburtina railway station, by FM1 train (42 minutes, 4,70 Euro).
by Train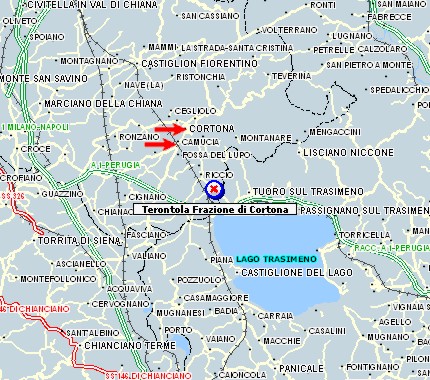 Railways Line: Roma-Firenze-Milano
For on-line timetables and bookings use the Trenitalia web site.
There are two Railways Stations:
Cortona-Camucia (5 Km from Cortona): Regional Trains from Rome or from Florence (or Arezzo) stop in this station.
Terontola-Cortona (11 Km from Cortona): Intercity and Regional Trains stop in this station.
[Note that EuroStar Express Trains (and Intercity and Regional Trains) stop in Arezzo (30 Km from Cortona).]
There is a bus service from both railways stations Cortona-Camucia and Terontola-Cortona to Cortona downtown bus terminal.
Bus tickets can be bought at all tobacconist and newspaper shops (but not on the buses). So remember to buy your tickets in advance (for instance, at the newspaper shop inside the station) and always punch the ticket when getting on the bus.
Taxis can be hired from the railways stations of Terontola and Camucia, or in the centre of Cortona in Piazza della Repubblica.
by Car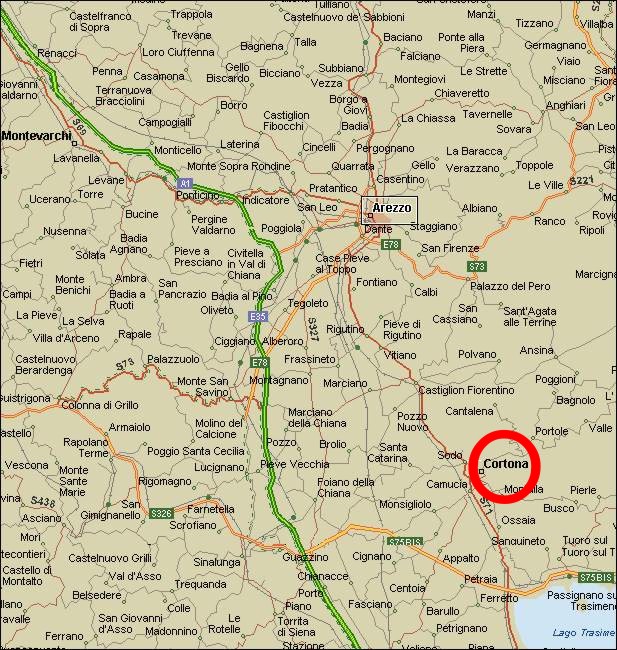 Motorway A1 (Autostrada del Sole, green in the map): exit "Valdichiana"
Just out of the Motorway A1, take the Highway Siena-Perugia S75BIS (yellow on the map), direction Perugia
On this Highway there are four possible turns-off to Cortona (see the local detailed road map)
Foiano-Cortona, via Manzano
Cortona, via Lauretana (suggested exit)
Pietraia-Cortona,
Castiglione del Lago-Cortona, via S.S. (State Road) No. 71.
In all cases, at Camucia, take the road towards Cortona (and Città di Castello) (S.P. Umbro-Cortonese, Province Road).
Cortona area map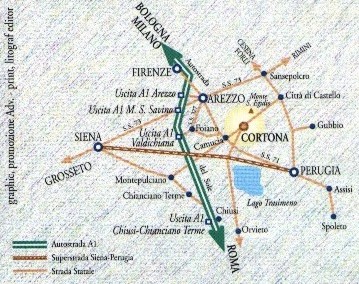 Click here for local detailed road map.

Back to the homepage of the conference

Last modified on March 12, 2004