---
Workshop on
Fractals and Tilings 2009
July 6 - 10, 2009, Strobl (Austria)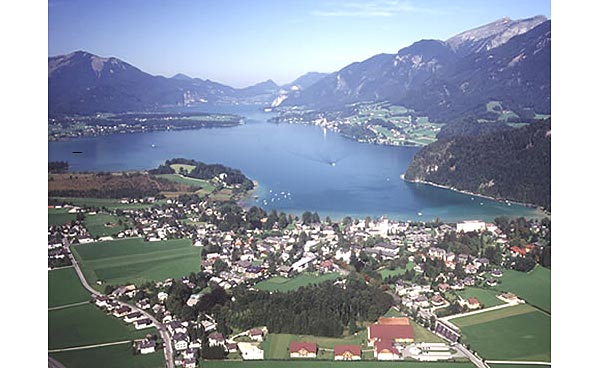 On this site you can find the following informations:
The workshop is devoted to the following topics:
analysis on fractals
stochastic processes on fractals
fractal dynamics
geometric measure theory
(multi)fractal measures
Bernoulli systems
aperiodic tilings
tilings
quasicrystals
topology of fractals
Kenneth Falconer (University of St. Andrews)
Palle Jorgenson (University of Iowa)
Ka-Sing Lau (Chinese University of Hong-Kong)
Dan Mauldin (University of North Texas)
Ian Putnam (University of Victoria)
Robert Strichartz (Cornell University)
The workshop takes place in Strobl, a small village at Lake Wolfgangsee on the border between the Austrian provinces Salzburg and Upper Austria, at the Bundesinstitut für Erwachsenenbildung St. Wolfgang [map] [homepage].

Accommodation for the participants including full board is covered.

The scientific program will start on Monday, July 6, in the morning and finish on Friday, July 10, noon.
Shigeki Akiyama
Pierre Arnoux
Michael Baake
Christoph Bandt
Jean Bellissard
Valérie Berthé
Greg Conner
Eva Curry
Michael Drmota
Dorin Dutkay
Kenneth Falconer
Thomas Fernique
Andrei Ghenciu
Uwe Grimm
Doug Hardin
Clemens Heuberger
Wolfram Hojka
Thomas Jordan
Naotaka Kajino
Jun Kigami
Ibrahim Kirat
Keri Kornelson
Veronika Kraus
Avra Laarakker
Ka Sing Lau
Benoit Loridant
Jack Lutz
Manfred Madritsch
Dan Mauldin
Johannes Morgenbesser
Volodimir Nekrashevich
Sze-Man Ngai
Erin Pearse
Roberto Peirone
Ian Putnam
Luke Rogers
Lorenzo Sadun
Georg Seitz
Karen Shuman
Anne Siegel
Karoly Simon
Victor Sirvent
Boris Solomyak
Myung-Sin Song
Wolfgang Steiner
Ben Steinhurst
Ines Stelzer
Paul Surer
Tai-Man Tang
Alexander Teplyaev
Robert Tichy
Zhi-Ying Wen
Reinhard Winkler
Christiaan van der Woestijne
Martina Zähle
For communication concerning the workshop please use the following address:

Please don't hesitate to use this address whenever you have any questions.